Shopping Cart
Your Cart is Empty
There was an error with PayPal
Click here to try again
Thank you for your business!
You should be receiving an order confirmation from Paypal shortly.
Exit Shopping Cart
Orchard Electrical Services
| | |
| --- | --- |
| Posted on February 26, 2013 at 11:55 AM | |
I was talking to an old friend the other day, and the subject got around to the work I'd been doing recently. When I mentioned that I'd happened upon a faulty RCD on a job the previous day, his reaction was: "What's an RCD?" He's not the first person to ask me that question, and I thought it was about time to offer some advice on the subject.
An RCD, or Residual Current Device to give it its full name, is a device which can quite literally save your life by preventing you from suffering a fatal electric shock if you touch a live part, such as a bare wire. As well as providing a degree of personal protection well beyond that of fuses or circuit breakers, RCDs can also help to protect against electrical fires.
Did you know that every year, about 70 people die and 350,000 are injured in the UK as a result of electrical accidents at home? An estimated 4,000 house fires caused by electricity might also have been prevented by fitting RCD protection in the consumer unit. Despite this, more than half of UK homes – that's 13 million - have either inadequate RCD protection, or none at all.
RCD protection is especially important if you're using mains-powered electrical equipment outdoors, where there is an increased risk of electric shock - imagine what could happen if you ran your lawnmower over its own power cable.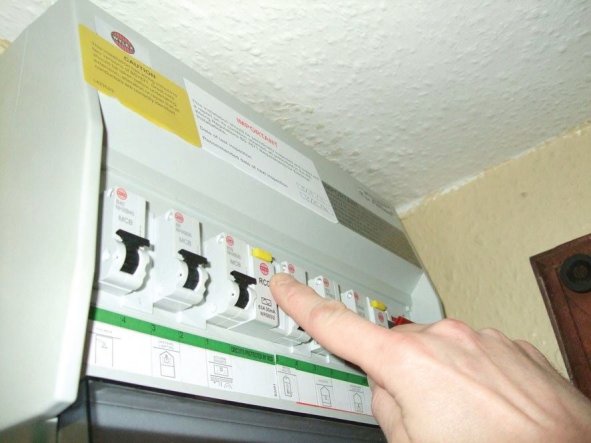 To check whether you already have RCD protection installed, look inside your consumer unit and see if there is a device with a push button marked "Test", or even just "T". That test button is part of the RCD. There should also be a label on or near the consumer unit which says the RCD should be tested every three months, something many people don't realise. For instance, I only discovered the faulty RCD I mentioned earlier during essential testing after replacing a cooker hood. The client concerned had no idea the RCDs needed to be tested; who knows how long it had been faulty?

Testing couldn't be easier; just push the test button and the RCD should switch off the power to the area of the home that it protects. Then just push the trip switch back to the "On" position to restore the supply. Some consumer units may have two RCDs installed, or each circuit breaker might even incorporate its own RCD. Just look for the test button.

If the RCD doesn't switch off the power when the test button is pushed, or if it doesn't switch back on, call a qualified electrician straight away.

There you have it; a functioning RCD can literally be a lifesaver. So, stop reading this and go and check your RCD protection right now.


Categories: Tips and Advice

0

/